Non surgical hair replacement for men
Posted On January 10, 2021 17:24:23
by Toupeec
Some men think that the non-surgical hair replacement systems will cost thousands of dollars, in fact, many men have no idea about the price and maintenance fees of toupee.
We know that it is difficult to calculate the price of the hair replacement system and hair pieces.
This is why Toupeec wants you to clearly understand the cost of toupees and hair replacement systems.
We believe you will discover how cost-effective it is to use the hair system as a long-term hair replacement solution.
In this blog, Toupeec will introduce you to each toupee cost guide, start now!
Non-surgical Hair Replacement Cost - Stock Hairpieces & Hair Systems
First, let's look at the price of the most popular non-surgical hair replacement system in Toupeec:Men's stock hair systems.
Our stock hair system for men has many different base types:Lace, skin, monofilament or a combination of two or three of them.
Prices range from $129 to $239, with most prices at $129.
You can also choose our additional services, such as hair styling fee ($15) or trim base size ($10), which will make your hair system ready to use from the moment you receive it in the mail.
This is the super discounted price of our non-surgical hair toupee!
Toupeec is a global manufacturer that sells hair replacement systems directly to customers. We have successfully saved a lot of costs. There is no intermediate cost. Customers will get the most suitable hair replacement system at the best price.
If you buy multiple units at once, our stock hair system and hairpieces will also become much cheaper.
For example, the standard price of our ultra-thin skin men's hair system is $219, but if you buy five at a time (the thickness of these toupees and hair systems is only 0.03mm, and each unit can only be used for about 1 month), then, The total price will be $835 instead of $1095.
Even buying two to three hair systems at once will save you money and reduce the cost of our non-surgical hair replacement products.
Toupeec recommends that you buy a few more units at a time to prepare for emergencies, because buying multiple wig units can help you save huge costs!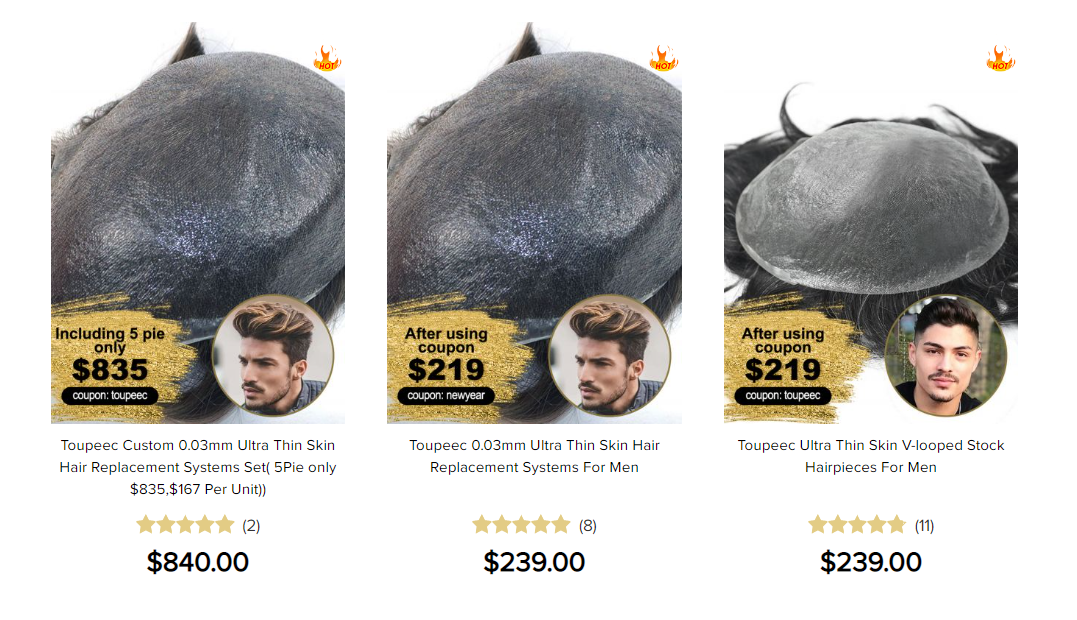 Custom Hair Toupees - Non-surgical Hair Replacement Price 
Toupeec offers custom hair systems for men, you will find these more expensive. Because there are many customization options to choose from, it is impossible to give you an exact final price.
In other words, you can fully control every feature of the hair system (from the hair to the root of the hair).
There are dozens of models to choose from, with prices starting from $219, but remember, this is just the starting price for our custom hair replacement system and toupee for men.
So, if you have a lace hair system and want to bleach the knots all over, then this will cost you an extra $20.
You can choose European or Remy human hair.
For additional services, such as our emergency service, production will take about 90 days instead of the usual 3-4 months, which will cost $60.
The picture below shows how many choices you have in terms of toupee hair base or style: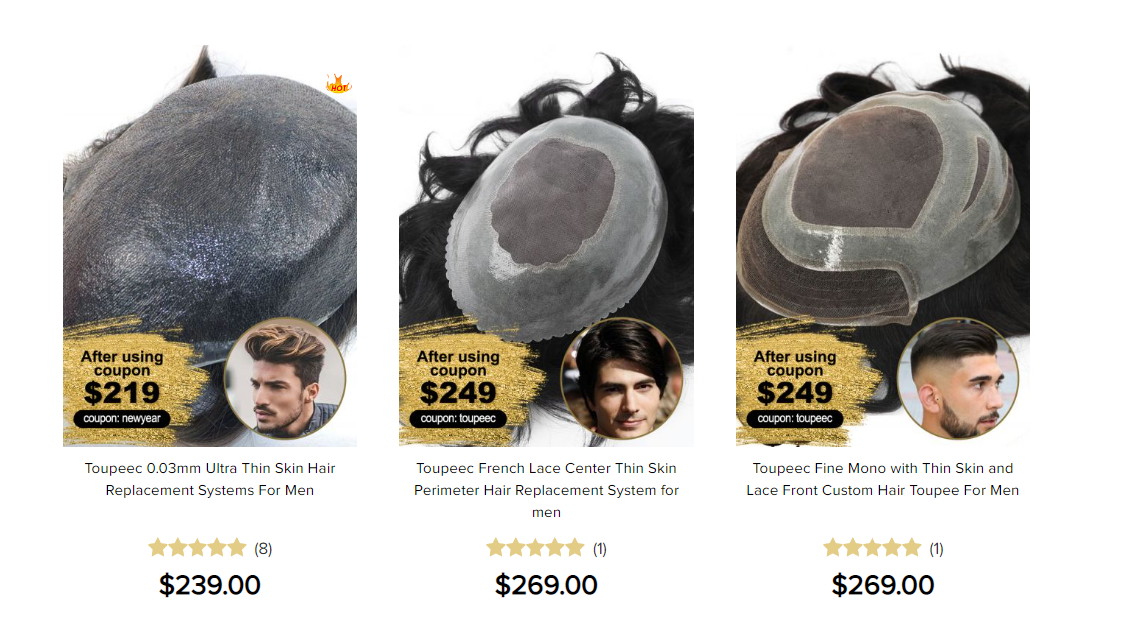 You will also be pleased to know that for every customer who buys toupee, the cost of our non-surgical hair replacement system will be further reduced, and we offer a $20 discount for all hair systems.
In addition, our non-surgical hair replacement system can add white hair, custom toupees for seniors, and a variety of hair system accessories, you can find the perfect solution to your hair problem.
Men and women around the world wear Toupeec's hair replacement products to combat baldness and thinning hair.
This is why we do our best to minimize the cost of hairpieces and toupees for men!

Cost of non-surgical hair system: Women's hair systems
More and more women are struggling with hair loss and thinning hair in their 20s and 30s. This is why we have added a Women's hair replacement system. women's topper that is made even more natural because of its silk top that removes all knots from sight. The knots on the front are bleached to give you an all-over natural look. To design these non-surgical hair recovery solutions, 100% The natural hair strands are sewn into the base.
The cost of these women's non-surgical hair replacement systems starts at $95. Since the female hair system is inherently customizable, hair length and hair color can be selected according to needs.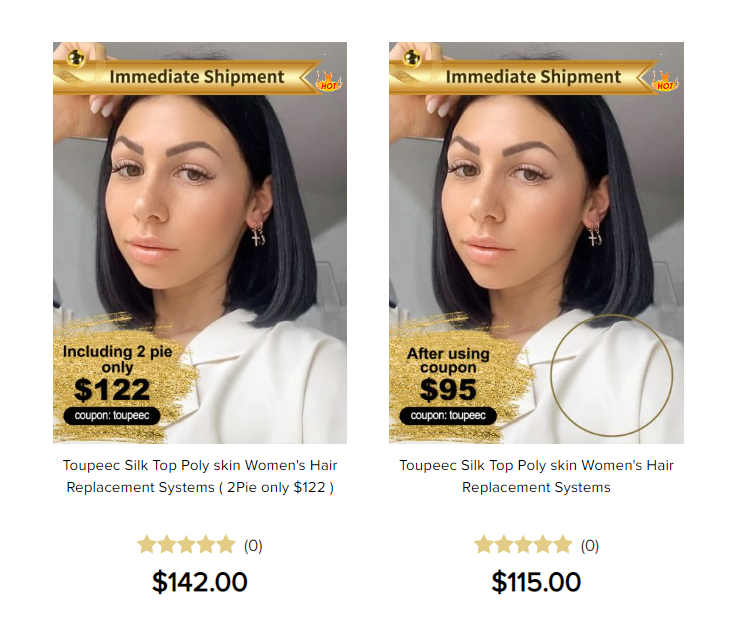 These Women's hair systems become more affordable when ordering multiple units!
For example, if you buy two toppers for women, the total cost will be $122 instead of $190.
Similarly, if you buy 4 hair pieces for women, the cost will change from $380 to $244.
Toupeec's Women's hair pieces easily blend with the natural hair strands on the top and sides of the head, providing women with a surreal frontal look.
See Women's Hair Systems for more details.
Hair replacement system pricing: thick skin skin hair systems
Toupeec brought a durable and authentic toupee for men, each unit can be used for 5-8 months.
This is why we introduced thick skin hairpieces into our extensive men's hair system in 2020.
At a reasonable cost, thick skin hair system is durable, natural hairline, real appearance, easy to attach and clean,
Let you get full hair in less than a minute.
Here are the three thick skin hair system options provided by Toupeec: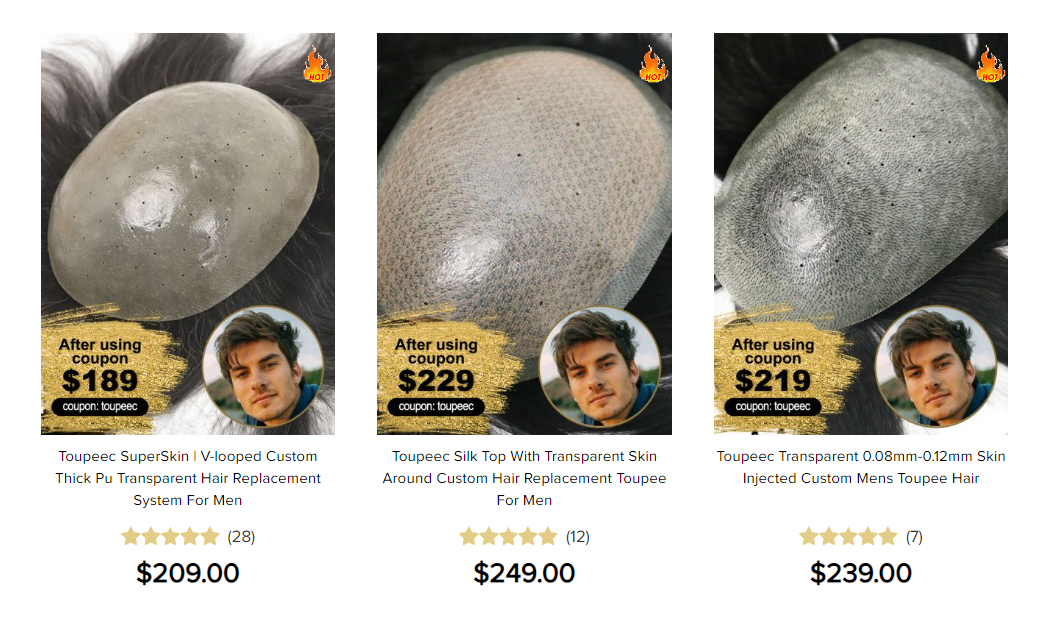 Our thick skin hairpieces have a comfortable, airy, and durable base.
They are the perfect non-surgical hair repair solution for men who like to exercise, dance, swim or exercise regularly.
The cost of these non-surgical hair replacement systems starts at $189 and may increase based on customization.
Check out thick skin mens toupees.
Non-surgical hair toupee cost: great discount hair system
In such a difficult 2020, large-scale factories stop production and workers stop working.
Non-surgical hair replacement systems suddenly became in short supply.
Limited inventory and sharply rising market demand have caused many hair vendors, wig wholesalers, and salon shops to increase the cost of men's hair replacement products. They could have purchased a unit, but now they can't buy it anymore. Many men's customers who need customization, Lost the most suitable high-quality toupee.
However, Toupeec came out! We have a batch of high-quality men's hair replacement systems, they all have super discounted prices, and you can use coupons to get an extra cut of $20.
The basic size of these men's hair pieces is between 7 inches x 9 inches and 8 x 10 inches.
Super durable hairpieces deliver a strong grip and blend in perfectly with natural hair on the sides and back.
If you currently have limited funds, but you are in urgent need of a long-term toupee hair wig, you must try our hair replacement systems.
Like any other men's hair replacements in our product catalog, they are very durable, breathable, comfortable, natural hairline and maintain a real hair appearance.
Take a look at our most popular hairpieces for men: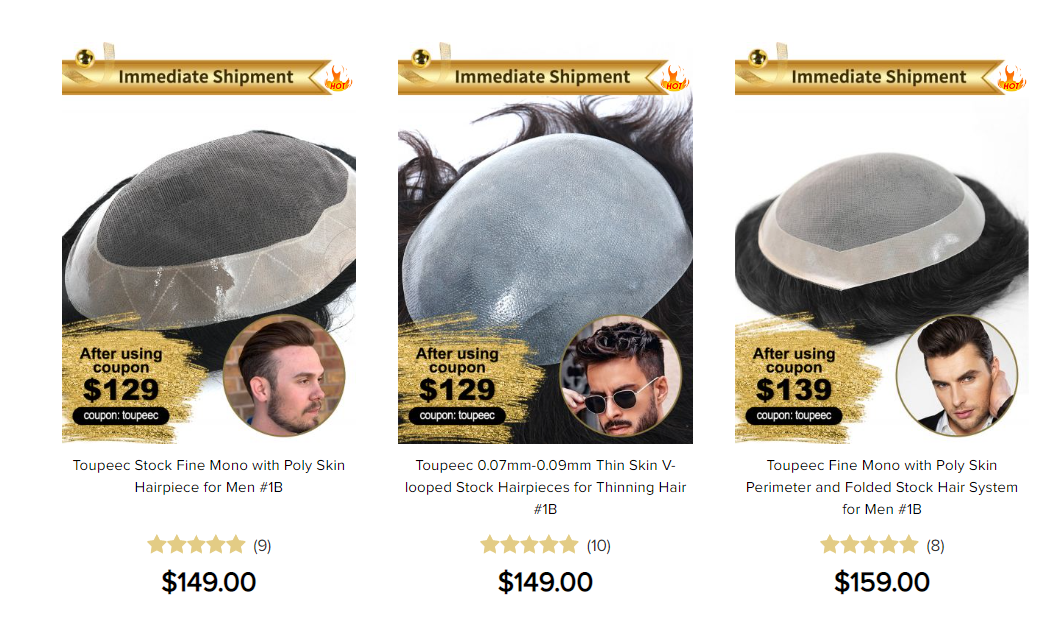 Our most popular hair replacement system ranges from $129.
Please note that this is our most popular toupee for men price tag.
We also provide customized hair units to give men more control over different aspects of the hair system.
Planning to order more than one men's hair system?
Toupeec has prepared a big discount for you!
If you order more than 5 of the top selling hair systems, the cost of each hair system will be $109 instead of $129.
Similarly, buying more than 10 pieces of the most popular hair accessories will reduce the cost per piece to $99.
Go ahead and start shopping from our best-selling men's hair replacement series.
The fastest and free hair system shipping
Toupeec ships thousands of toupees and hairpieces to hundreds of countries around the world.
We are free!
Yes, We offer free and fast worldwide shipping while working with international couriers like FedEx, DHL, TNT, and UPS. This means you can expect to receive your stock toupee in just 3-7 business days.
Please note that we can ship the goods on the same day that you order the inventory system, but the customized system requires about 3 months of production time.
Okay, that's it.
A cheap and durable hair replacement is only $129, including shipping.
If you need advice on toupee fees, please feel free to contact Toupeec.
Call or contact Alice via WhatsApp +8613165011553,
or send an email to sales1@toupee.com, free consultation of hair replacement system and cost estimation for your unique hair system.
Buy hair pieces and hair systems at the best price.
Men all over the world are struggling with hair loss caused by aging, disease, genetics and modern lifestyles.
At Toupeec, we are committed to providing high-quality non-surgical hair replacement systems, toupees and accessories at affordable prices to provide painless solutions to hair problems.
By focusing on reducing the cost of men's advanced hair systems, we hope to provide high-quality hair replacement products for everyone.
Browse our ever-growing inventory of wigs and custom hair replacement systems catalog, providing the best prices and after-sales support.
Take a look at the photos of our customers before and after wearing the hair system to see how they benefited from the non-surgical hair replacement system.
Do you have any questions about the price of hair pieces and hair systems?
Talk to our service team to find answers to all questions related to hair replacement products.
Toupeec is here to help you with everything related to the hair system!