Hair systems vs. Toupees vs. Wigs vs. Hair transplant - Who is the best hair replacement solution?
Posted On January 23, 2021 07:00:12
by Toupeec
A detailed comparison of wigs and toupees can be found online. There is also a blog on "Hair System and Hair Transplantation". However, there are very few blogs that cover all surgical and non-surgical hair replacement options out there. That's why we thought of this ultimate battle blog named Hair System vs. Toupees vs. Wigs vs. Hair Transplant to end the discussion once and for all.
Since the terms toupees, wigs and hair system are often used interchangeably, it is often a little difficult for first-time buyers to distinguish them. Therefore, throughout this blog, we will introduce them one by one so that you can clearly see the difference between them.
Hair system
The hair system is well known for super toupees and designed using natural hair, an invisible base, and modern technology. This non-surgical hair replacement solution allows buyers to choose a completely customized base material and hair system in terms of hair color, style, density, texture and length.
The hair replacement system is connected by tape, glue or clips. Unlike hair transplants, the hair system is completely painless. Due to its versatility and economy, this hair loss repair method is now more and more popular. 
View out our stock men's hair system!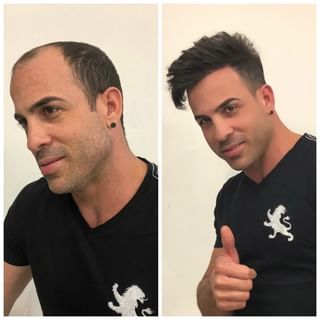 The advantages of the hair replacement system are:
1.Instant results without waiting time
2.No painful surgery
3.Low price
4.Suitable for temporary and permanent hair loss
5.Suitable for people who have not donated hair
The disadvantages of hair replacement include:
1.Need timely maintenance
2.Need to change the hair system regularly
There are two types of hair systems: stock hair systems and custom hair systems. Inventory hair systems are mass production keeping in mind the requirements of the most common hair system wearers. The custom hair system is based on individual specifications. Customized hair systems usually cost more than ordinary hair systems, but they are still at least 20 times cheaper than surgical treatments.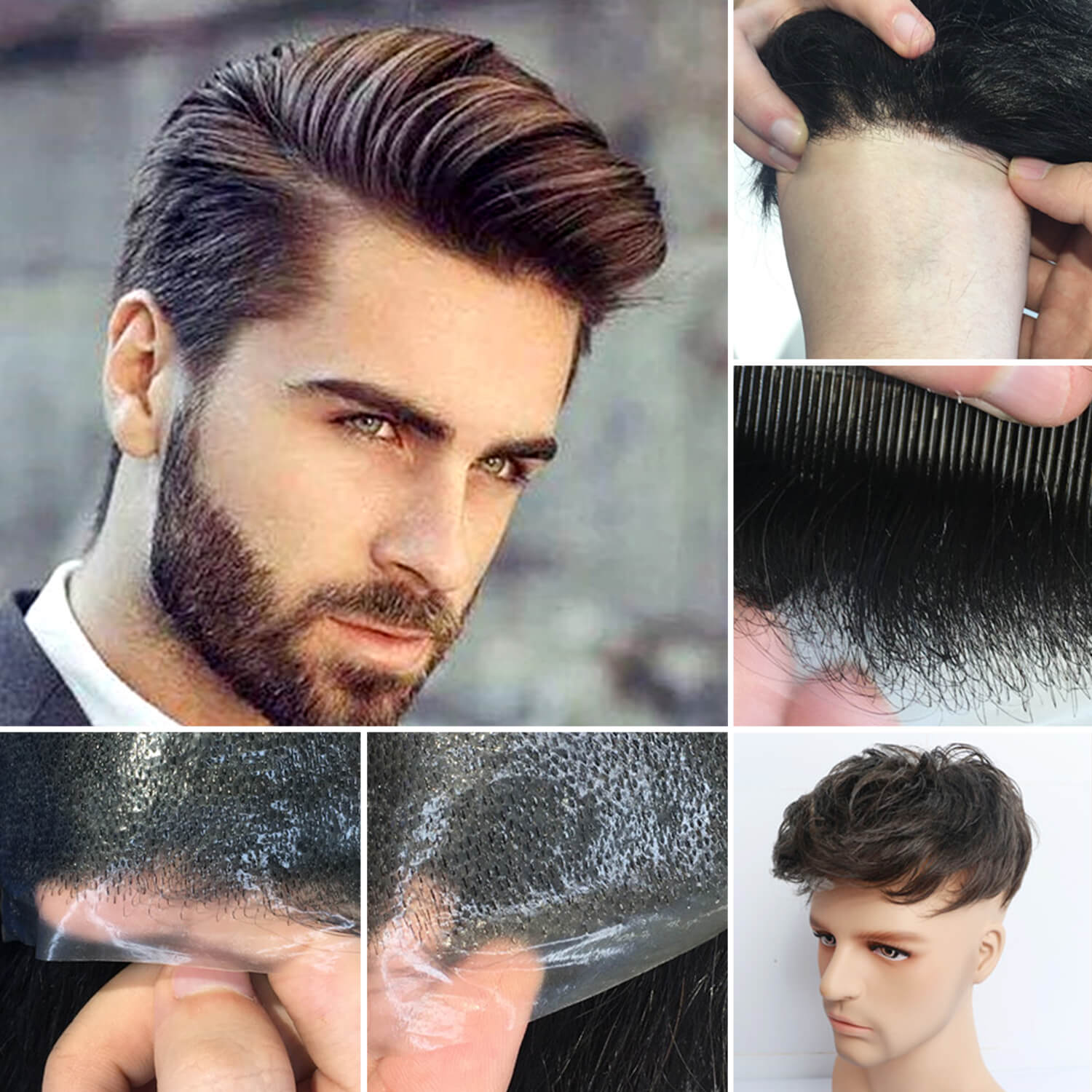 Hair transplant
Hair transplantation is a surgical technique that moves the hair follicles from the "fertile" area to the bald area. This is a common method to treat male baldness, but this technique is also used to transplant eyelashes and eyebrow hair. Hair transplants are also used to fill scars caused by accidents or surgery.
Large areas of baldness are usually difficult to cover completely. This is why hair transplantation is not a popular choice for male elderly people.
The advantages of hair transplantation are:
1.Positive aesthetic changes
2.Improve self-esteem
3.Natural hairstyle
4.Natural hair growth
The disadvantages of hair transplantation include:
1.expensive
2.Risk of scarring
3.Risk of infection
4.Chance of hair loss after transplantation
5.Time-consuming procedure that requires multiple sittings
6.No immediate results-visible changes require a waiting period of approximately 6 months after transplantation
Looking at the advantages and disadvantages, we can clearly say that hair transplantation lost the "hair system and hair transplantation dispute."
Wigs
Wigs are the oldest non-surgical hair replacement solution. Wigs are basically headwear made from natural or synthetic hair. They cover the entire scalp, not just the top or part of the scalp. Wigs are worn to cover baldness or all existing natural hair, and should be taken off every day.
Celebrities like Lady Gaga, Rihanna, Katy Perry and Britney Spears have made wigs a popular fashion accessory in recent years. The increasing popularity of cosplay has also promoted the demand for wigs. However, since the hair system is a better solution, the use of wigs to cover up hair loss is steadily declining.
The advantages of wigs are as follows:
1.cheap
2.No customization required
3.Best for expression style
4.On demand
The disadvantages of wigs are:
1.Unrealistic and unnatural expressions
2.Need to be washed carefully
3.Not a panacea
Although wigs are winners in the fashion industry, they are not very attractive to bald men. Therefore, the hair system has won the "hair transplantation vs. hair system vs. wig" war.
View out our best stock hairpieces for women here!
Toupee
A toupee is a type of hairpiece or partial wig, made of natural or synthetic hair, used to cover partial baldness. By definition, we can see that toupees is between wig and hairpiece. They have natural and synthetic hair. Synthetic hair is composed of monofilament fibers or two or three multifilament fibers, acrylic fibers or polyester fibers.
Their lifespan is not as good as human hairpieces because they are easily damaged by friction and heat.
The price of human hair toupee is much higher than synthetic hair toupee, because artificial wigs don't look so natural. Toupees are usually associated with male wearers. Some women also use lengthened hair to lengthen their hair or cover part of the exposed scalp. Usually, in order to cover baldness, men prefer to wear toupees than women.
The advantages and disadvantages are the same as wigs.We can call the duel between hair toupees and wigs a tie!
Hair System vs. Wig vs. Toupee vs. Hair Transplant
Although we have discussed surgical and non-surgical hair replacement systems independently, you are still very uncertain. To ensure that the comparison is fair and just, take a look at the comparison we made for you so that you can easily compare your own hair systems, toupee, wigs and hair transplants.
| | | | | |
| --- | --- | --- | --- | --- |
|   | Hair systems | Hair transplant | Wigs | Toupees |
| Natural looking | Yes | Yes | No | No |
| Price | Moderate | High | Low | Low |
| Pain | No | Yes | No | No |
| Order frequency | 3-5 months | One-time | 6+months | 6+months |
| Maintenance | Yes | Yes | Yes | Yes |
| Customization | Yes | Yes | No | No |
| Popularity | High | Moderate | Low | Low |
| Side effects | No | Yes | No | No |
| Scar | No | Yes | No | No |
| Infection | No | Yes | No | No |
Since we are talking about popular hair repair options, we think it makes sense to list other popular product types, which are used by men and women for fashion and hair loss repair. Here are 3 additional non-surgical hair replacement options!
Men's stock hairpieces
Not all men want to customize their own hairpieces. Some people like to stick to basic design and style. Toupeec's stock hairpieces are perfect for this type of male. Looking forward to good build quality and natural looking hairpieces as well as hair in our stock! 
Just like custom units, the basis of our stock hair system is designed to use first-class materials, making them very durable, breathable, lightweight and long lasting. If properly maintained, men's stock hairpieces can be easily maintained for 2-4 months. Browse our collection of men's stock hairpieces to quickly restore hair
Stock women's human hair wigs
In the past few years, Toupeec's wigs have also gained tremendous popularity among women. Whether you are a fashionable woman interested in trying hairstyles or a mature woman with signs of aggressive hair loss, our various natural-looking stock wigs can meet the needs of women from all walks of life
Whether it's stylish short hair or medium hair wigs, Toupeec can do it in less than a week! Our stock hair accessories are 100% natural hairpieces to provide women with an all-natural look. We designed the wig base using high-end materials to make the hair look out of the scalp. Check out our stock toppers for women.
Partial wig
Some wigs are perfect for men and women facing extreme hair loss in limited areas of the scalp. These hairpieces are basically smaller than ordinary hair systems. Once adjusted on the scalp, part of the wig can be easily blended with natural hair, showing the appearance of full hair
Just like the stock hair system, some units of Toupeec have a base made of highly durable material, which is comfortable and breathable. Check out some of our men's partial wigs and discover unique hair replacement products.
Summary-what is the hair system
The hair system is synonymous with the term "hairpiece", which was more relevant and widely used in the past. Other terms, such as wigs, wiglets, toupees, and hair extensions, can still be used interchangeably, although we just proved that they do not mean exactly the same.
Still have questions about non-surgical hair replacement solutions? Still worrying about hair loss and planning to buy your first hair system? Take a look at Toupeec's collection of men's hair systems and women's hair replacement systems!