Toupeec Stock Toupees For Men 0.07-0.09 mm Thin Skin V-looped Hairpieces for Thinning Hair Set( 8 Pcs $1010, only $126 Per Unit)
Coupon code:toupeec
saving extra: $20
If you have questions about the price of toupee, or any problems during the order, or you need to know more about the hair system, whether it is worn or selected, contact Alice by WhatsApp
+8613165011553
or e-mail
sales1@toupee.com
, we look forward to your visit and provide you with the best service!
Regular Price
$2,232.00
Now Price
Special Price
$1,010.00
1.0.07-0.09mm full durable skin
2.Easy to clean and attach
3.Natural hair curly
4.Real head skin tone
5.V-loop in Front,No knots
6.Undetectable Hairline
7.100% Remy Hair
8.Natural hair Color
9.Free Hair Style
10.Real Look
Coupon code:toupeec
saving extra: $20
If you have questions about the price of toupee, or any problems during the order, or you need to know more about the hair system, whether it is worn or selected, contact Alice by WhatsApp +8613165011553 or e-mail sales1@toupee.com , we look forward to your visit and provide you with the best service!
Stock Toupees For Men 0.07-0.09 mm Thin Skin V-looped Hairpieces for Thinning Hair Set( 8 Pcs $1010, only $126 Per Unit)
Description
Reviews
Buyer Protection
Faq
Description


If you are using toupee hair system for men for the first time, don't worry, Toupeec teaches you how to wear mens hair pieces at home.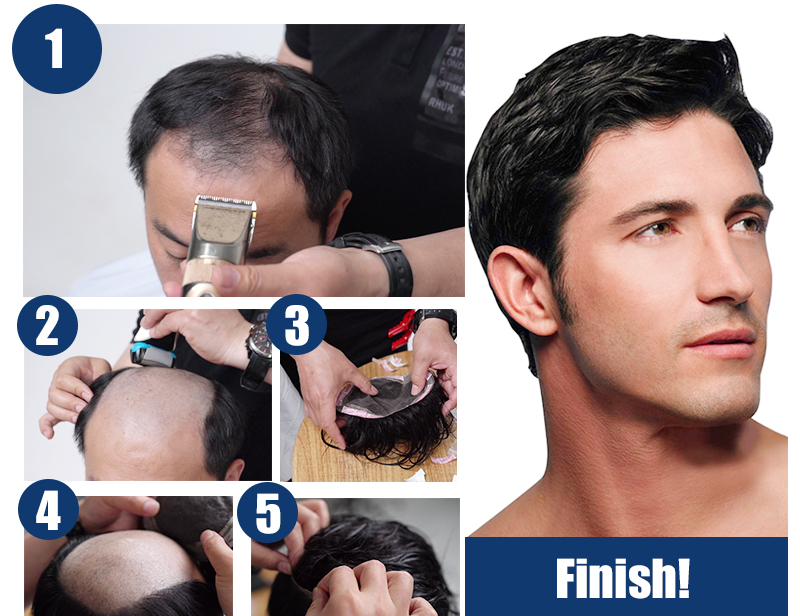 Your toupee hair piece is tailor-made for you, we need to make your head ready for a perfect fit.
Step 1: You should design the area above your head to create a smooth surface (cut off all the hair), and then paste the adhesive here.
Step 2: Adhesive (glue or tape) is applied to the scalp and skin / Or a toupee hair pieces. (all our adhesives are certified, non-toxic, anti allergic and harmless to the skin)
Step 3: First gently press the tip of the system to the center of the forehead, and then slowly continue to press the system in a gradual roll back manner, ensuring that both sides of the system are even until they are completely fixed to the back, covering the entire shaving area.
| | |
| --- | --- |
| Cap Construction: | Full Thick Skin 0.07-0.09mm Thickness All Over V-looped Forehead |
| Base Size: | 7" * 9" |
| Hair Style: | Free Style |
| Hair Wave: | 40mm ,36mm ,32mm ,30mm ,26mm Tight Curl |
| Density: | Light Medium 100%-110% |
| Hair Length: | 6"  |
| Hair Type: | Indian Remy Hair |
| Hair Color List: | #1B |
Thin Skin Hairpieces for Thinning Hair base only 0.07-0.09mm, it is thicker than normal skin hair replacement for men, which means that men's Hair pieces is more durable. You can use it for about three to five months at a cost of $129. Your investment in hair only needs to be every month Less than $26.
As we all know, the biggest advantage of the skin hair system is to maintain the highest degree of realism. V-looped hair means no knots,have a more natural front hairline,this stock toupee for men who will wear their hair down and not brushed back. The skin hair system will not change the skin color on the top of your head. It uses 100% human hair, which is real and natural.
The skin hair system is easy to wear, easy to clean, fits your head perfectly, and feels the most comfortable to the touch.Highest degree of realism you need, Stock Hairpieces for Thinning Hair can do it for you.
Toupeec offers high-quality toupee wigs for men at ultra-low prices, biggest sale in new year, and additional discounts. The men's hair piece is great value for money, you will love it!
 

full transparent skin,

0.07mm-0.09mm,

can be used for about 3-5 months,

Easy to clean and attach,

Durable and light,

100% remy hair,
Medium light density,
Real head skin tone,

V-Looped hair
No knots
Undetectable hairline

Natural hair Color
Free Hair Style
Real Look

 
Return:After you receive the hair replacement system, if you find any problem or you're not satisfied with the mens hair piece, please do not cut, style, color or clean the toupee, please contact us directly. Toupeec will give you a perfect solution. Please assured that the toupee has not been cut, shaped, washed, colored or used, we will guarantee a 30-day return.If you had asked us made any changes to the hair system before shipping, such as custom order, the product could not be returned for a refund.

Reviews


Show More


— — No More — —
Buyer Protection
*For Return*
1. HOW DO I MAKE A RETURN?
Easy: e-mail us at sales1@toupee.com and let us know your order No. to avoid any misunderstanding, in the mail, you send us please explain in detail the problem you are experiencing with the product and also add the pictures of the product showing the damage. We will then provide you with instructions and a return address to ship your set back. All returned items will be inspected to see if you qualify for a refund, as used merchandise will not be refunded. Custom made orders can't be exchanged and returned except for our mistakes.
2. WHEN WILL I RECEIVE MY REFUND?
A full refund will be provided by PayPal after we have received, inspected and confirmed that the returned hair was not used. All customers must contact us after sending the package back and provide us with the tracking information in order for us to process the refund. It will take up to 3-5 business days to process the refund.
3. DO I HAVE TO PAY FOR THE SHIPPING OF MY RETURN?
Yes, you are responsible for the return shipping costs.
*For Exchange*
1. CAN I EXCHANGE MY ORDER?
Yes. We are happy to accept your setback for an exchange within 30 days, as long as it has not been opened, worn, or tampered with. For any price differences of the exchanged items, we will charge you extra or credit back the overcharge. Custom made orders can't be exchanged and returned except for our mistakes.
2. DO I HAVE TO PAY FOR THE SHIPPING OF MY EXCHANGE?
Yes, you are responsible for all exchange shipping costs.
3. WHEN WILL I RECEIVE MY EXCHANGE?
We will send you the exchanging hair after we have received, inspected and confirmed that the returned hair not used. All customers must contact us after sending the package back and provide us with the tracking information of the set being sent back, in order for us to place the order for your exchange. It takes 1-2 business days to process all orders from the moment we place it in our system. US orders take 3-5 business days to be delivered with standard free shipping.
Faq
How Could I Always Suffer From HAIR LOSS?
The cause of baldness has a lot of reasons, such as seborrheic alopecia. haematogenous alopecia、alopecia hereditaria and So on. Too much perming and coloring hair are also easy to cause. Generally speaking, the growth of age、the bad mood and the short of sleep always cause the endocrine disorders and further lead to hair loss. If you have any of the above, you should pay attention to nutrition condition, maintain a pleasant mood, eat less spicy、stimulating and excessive oil food, ensure adequate sleep.
Why people choose hair replacement?
Hair loss is a common problem for men in today's stressful life across the world. Hair loss of any degree can have a major impact on your self-confidence, even if it's just a mild thinning only you can notice. Hair replacement keeps you in complete control of your hair volume, color, style, and even texture. No waiting in salons for styling your hair, no tension to get hair damaged from harmful chemical products. Styling your hair system the way you like without thinking of any side-effect
There is almost no risk whatsoever to hair replacement. The only possible side effect is an allergic reaction to the adhesive that's used, and even that is extremely rare. No matter the hair transplant surgeries, or other drugs, they all require you to wait for several months with a bald or thin spot before you finally start seeing results. With hair replacement systems, your results are immediate, painless, and intensely satisfying! The vast majority of options through us are available for around $100. When you consider the fact that you could purchase five different hair systems for the price of the least expensive hair transplant surgery available, you may start to ask yourself whether or not a painful, expensive, and non-guaranteed surgical procedure is really worth it. It's also very easy to wear and take off.
What is hair system?
A hair system is a hairpiece or partial wig of synthetic or excellent-quality human hair worn to cover some part of baldness, or for theatrical purposes. It is often referred to as hairpieces, toupees, or units. It is attached to the existing hair or scalp to give the appearance of a fuller head of hair. Although a hair system is usually linked with male wearers, many women also might use it to extend the existing hair or cover a partially exposed scalp.
What kind of hair system is suitable for me?
We offer three different hair systems for you:
Skin hair system: natural、invisible, the translucent poly system base perfectly matches your skin color and offers the invisible front hairline. If you choose the thinnest poly, you will have the most natural appearance but it can only last a few weeks.
Lace hair system: comfortable、breathable、lightweight、natural, you can barely feel it when you are on it. The material prevent most allergic reactions as well as injuries to the scalp and skin. Even in hot and humid weather conditions, you can keep comfortable.
Mono hair system: durable、breathable、natural、easy to clean and install with both tape and glue, a complete mono-filament base is light and breathable, yet strong enough to take the weight of hair. It is soft to the touch. Basically see through and very hard to detect. The honeycombed structure allows the heat and sweat to escape in the hot weather.
What should I do before I buy a hair system?
First, you have to clear why you need a toupee, for cover the bald or change hairstyle anytime and anywhere. And you can choose customized or stock service.
Then, choose one of the most suitable from the skin、lace、mono hair systems according to your needs.
Last, if you choose the stock hair systems, you can compare all features such as length、color and density, to purchase the most ideal. If you choose the customized service, you just need to communicate with us and we will tailor for you.
When I am taking an order, what can I do?
Register/Login in——Choose the products —— Add to Cart——Fill in/Confirm the address and telephone number——Pay for the order——Receive the order.
How can I attach a hair system?
Your hair system has been tailored just for you and we need to get your head ready for the perfect fit.
First, you should design area on top of your head to create a smooth surface (cut of all hair) where we will apply the adhesive.
Then, the adhesive (glue or tape) needs to be applied to your scalp and/or on the hair system. (All our adhesives are certified, non toxic, anti-allergen and present no danger for the skin)
Last, starting by gently sticking the tip of the system in the center of the forehead, slowly continue sticking the system in a gradual rolling back movement, making sure that it's even on each sides, until it comes sit nicely all the way to the back, covering the whole shaved area.
What should not I do with it?
1、Over-cleaning:Over-cleaning could pull moisture from hair, making your hair dry and even leading to breakage. It is suggested that you should shampoo your curly hair 1-2 times a week to have textured hair, but the frequency of hair shampooing is totally dependent on your preference.
2、 Using a shampoo with sulfates:Sulfates can strip natural moisture of your hair and irritate scalp. As natural curly hair tends to be dry in nature, it is especially crucial to avoid using shampoo with sulfates while washing your curly hair. Hence, to prevent that your hair looks lifeless, sulfate-free shampoos are recommended for curly hair.
3、 Not using conditioners:Since curly hair tends to be drier than straight hair, it is particularly important to moisturize curly hair. Hydrating conditioners that are effective in adding nutrition and keeping curly hair moisturized should be used so that your curls will be happy and full of life.
4、Combing through curly hair with a comb or brush:Do not use a comb to comb through your curly hair as this will cause the curls to separate. Comb through your hair with fingers when your hair is wet to ensure that your curls are knot-free. Keep in mind, brushing for curly hair should be minimized.
5、Drying curly hair with a towel:Do not use a towel to dry it after you wash your curly hair now that it will cause frizz and separation to curls. Air-drying is the best solution to drying curly hair.
6、Not protecting curly hair against UV damage:Do you know UV rays can do harm to not only your skin but also your hair? Harmful UV radiation can sap your curly hair of strength and strip it of moisture so that your hair will ultimately become dry and brittle. This is why it is suggested that you apply a leave-in conditioner with multiple functions of offering moisture and nourishment and protecting hair against UV radiation.
7、Blow-drying curly hair incorrectly:If you have curly hair, it's better to refrain from blow-drying which could cause hair to be dry and frizzy. If you have to blow-dry, a diffuser attachment should be used to help reduce frizz by limiting the amount of heat that will hit the strands of your hair and distributing the heat evenly.
8、Not protecting your hair with the right pillowcase:The wrong pillowcase could also pull moisture from your hair and cause tangling or breakage. Apart from protecting hair in the daytime, it is essential to provide protection of your curly hair at night. Cotton pillowcase can pull moisture from hair. To guarantee sufficient protection of your curly hair, a silk pillowcase that helps maintain moisture and minimize tugging is a must-have.
What if I have a problem after sale to do?
1、If you don't like the toupee and want to return it after receive:
If it is stock hair systems, you can simply return it. Please kindly make sure don't cut or do any process on the hair unit. We will refund the money back to you after receiving the returned unit.
If it is custom order, if it is our manufacture defect or mistake, you can return it to remake or repair or ask money back.  If the order is made correct, but the order is ordered incorrect, sorry, we could not remake free of charge or refund free of charge. But we would like to adjust it to meet your requirement if possible, and only charge working cost.
2、If you just have some questions about using, feel free to contact us. We will answer your questions by phone, e-mail or video, until you are satisfied.
How to maintain a hair system?
Washing hair:Detangle Gently remove tangles using a wide tooth comb, working gradually from the ends to the base. Rinse with cool water to remove shampoo. Gently press with a towel to remove excess water. Do not rub or wring. Wash submerges your wig in cool water. Mix in a small amount of Shampoo. Soak your wig for 3-5 minutes. Gently swirl without rubbing. Rinse with cool water to remove shampoo. Gently press with a towel to remove excess water. Do not rub or wring.
Keeping Hair System Soft:
More conditioning, attempt leave-in conditioning creams
Utilize hair items that has sunscreen
Dry the hair with normal air
Ideally your hair system would stay delicate until the end of time
Detangling Hair System:
DOO-IT-YOURSELF TIPS
Before getting into the shower, wet your head first and brush all the hair toward the same direction. This adds moisture to the hair strands and will ease friction while washing.
If your hair is tangled before you get in the shower, it is helpful to dilute your shampoo with just a little bit of water before applying. This will also make it easier to rub the shampoo in to the hair
Using a wide-tooth comb or a specially designed Vent Brush in the shower which will help prevent hair strands from intertwining and getting caught on each other.
Styling Your Hair System:
Follow these simple tips to style your hair system so it looks more natural.
When drying the hair with a hair dryer use only warm air never and avoid the maximum heat
Choose the Alcohol free styling products to style your hair system
Use the blow dryer on the coolest setting only long enough to arrange the hair into desired style. Think of the blow dryer as a brush and do not blow the hair system totally dry which will cause the matted and molded look. Let the hair air-dry the rest of the way and then brush it.
Use the brushes that have flexible bristles with cushions on the ends. The cushions can help prevent the bristles from snagging the holes in your lace which could cause a tear.
Preventing Oxidation:
Harmful UV rays from the sun can cause the hair in your hair system to turn orange or red in color. Though it is a gradual process, if you spend much time outdoors, it could affect you and the natural appearance you're used to getting from your hair replacement. If you will spend long period of time outdoors doing yardwork or exercising, you'd better wear a hat or baseball cap. Using produces with UV protectors or even antioxidants will help to block most of these harmful rays or help to neutralize the process.
Preventing System Hair Loss:
CUT DOWN ON FRICTION:A major cause of friction come from sleeping with a pillowcase made from coarse materials. The constant contact with linen leads to hair breakage. Use satin pillow will dramatically reduce the level of friction and extend the lifespan of your hair system. Friction is also caused by excess combing and brushing. Using a lubricating agent will moisten the hair and reduce friction while you are styling your hair. Additionally, avoid wearing hats or helmet for extended periods of time. This will also help to lengthen the time bonding adhesives stay effective.
KEEP OUT BACTERIA:Bacteria build up will destroy hair structure and cause it to weaken and break. The knots where the hair is tied into the system are most vulnerable as they tend to hold and retain moisture. A spray-on leave-in conditioner may be a good choice as it will not collect in the knots of hairs that have been tied in to a hair system base. It is better not to use rinse type conditioners that contain hydrolyzed proteins. But a shampoo contained hydrolyzed is recommended. This is because the hair in your hair system will absorb the proteins during the cleaning process and the excess is more likely to be rinsed away.
How often should I remove my piece?
Although our adhesives are non toxic and present no danger for the skin, they block our scalp from breathing. We recommend that you take toupee off after wearing 2-3 days, to wash your scalp and care for your wig. Of course, you'd better adjust the time according the climate, temperature and skin tolerance.
How long does a hair system can last?
ere is an approximate timeline guide:
1-2 months for 0.03mm thin skin hair systems
2-4 months for 0.05 mm thin skin hair systems
4-6 months for 0.10 mm thin skin hair systems
5-8 months for 0.15 mm thin skin hair systems
5-7 months for Swiss lace hair system
6-9 months for French lace hair system
7-12 months for mono hair system