Is the hair replacement system permanent?
Posted On January 21, 2021 09:23:06
by Toupeec
We are always asked "Is the hair replacement system permanent?", "How long can the hair unit last?" or "What is your most durable product? "?" Do you consider these issues when choosing a hair system? Let us discuss it today and find a satisfactory hair replacement system for you!
Let us first look at the composition of the hair replacement system. The hair replacement systems consists of two parts: the base and the hair. When you ask how long the hair system can last, you need to consider both parts of the hair replacement system, because they both affect the life of the human hair replacement system. There are many different types of materials for the system base. Different substrates have different service life. Some substrates are durable and strong, while other types are not. In addition, there are many different types of hair, such as Indian hair, Remy hair, and virgin hair. Like the base, different types of human hair have different life expectancy. This article will provide the most up-to-date detailed information on both the foundation and the durability of human hair. After reading this article, you will have a very clear understanding of how long the hair replacement system can last.
Base
Our factory provides human hair replacement systems of various materials. These are: French lace, Swiss lace, fine monofilament, poly/polyurethane, poly gauze, poly coating, integrated mesh, etc.
This material is soft and breathable. The small holes of lace material allow the head and sweat to escape, which is especially suitable for people who live in hot and humid climate or who like to exercise, so they sweat a lot. But this material is not very durable because it is thin and has holes. Under normal use and maintenance, it can be used for about 3 months. The natural effect of French lace is not only produced by the thin base material, but also by the bleached knot. Bleaching knot is bleaching, it removes most of the color and leaves a hair knot that is almost invisible. Bleached knots provide a more natural appearance. However, bleaching can weaken hair knots, thereby reducing their lifespan.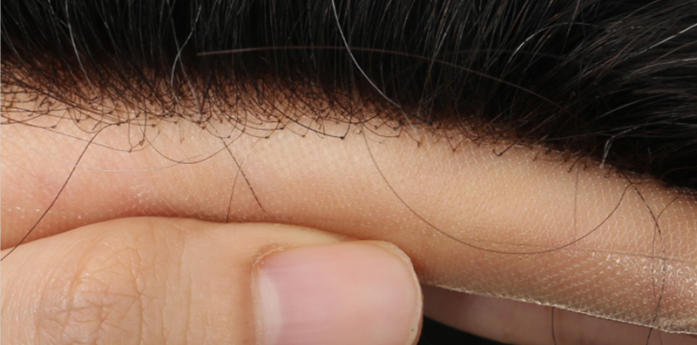 The next base is fine mono.
This material looks like cloth, which is both durable and strong. The hole in the monolith is smaller than the hole in the lace. To tie the hair on the thin sheet is a double knot, we do not bleach the knot, so the hair can last longer. The fine monofilament hair system and toupee last longer than French lace. A single well-maintained material can last up to 8-12 months or even years.
The third type is poly (PU) material
Which is made of silicone or polyurethane and is used to make a material that mimics the appearance of the skin or scalp. The thickness of the poly base cloth is variable, which determines the appearance and durability of the poly base cloth wig.
The thinnest base is only 0.03mm, which creates the most natural appearance, but will not last more than 1-2 months. There are two reasons for its short life. First of all, the transparent polyethylene skin, although it looks natural, but it is so thin and soft, it is just not so durable. Another reason is the v-ring. The hair is not tied to the base, so the hair is easy to fall out. Although not as durable, this ultra-thin skin hairpiece is becoming more and more popular because of its natural appearance and softness. It is so comfortable that when it is worn, it does not seem to be there. In addition, the perfect amount creates the most natural effect. Last but not least, it requires much less maintenance because customers wear it for 3-4 weeks and then replace it with a new one. Different thicknesses of polyester materials have different life spans. The thicker the polyethylene, the longer the service life.
The polyester hair replacement system is suitable for people living in cold areas or people who don't like exercise and sweat less.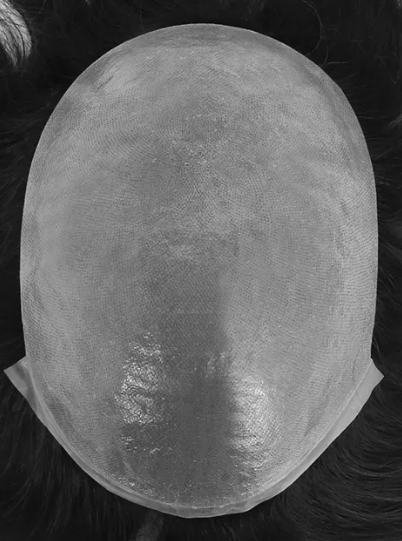 There are also designs specifically made of lace or polymer, but it is more common to find parts in different combinations of these two materials: usually lace is used on the top and front areas to allow ventilation and create a more natural hairline Wire, polymer material is applied to the circumference of the prosthesis to provide greater force in the application area.
The base material is like the foundation of a building. If the foundation is strong, so is the building. Similarly, if the base material of the hair system is not strong, the hair system cannot be maintained for a long time. However, durable base materials are only part of the life of the hair system.
After talking about the types of bases, let's talk about human hair. There are usually three kinds of human hair: human hair, remy hair and virgin hair.
Different hairstyles
The high-quality hair replacement system is made of high-quality human hair that matches the customer's hair. This combination includes color, texture, natural curl or wave (straightness) and hair density (thickness). Different hair types have different qualities, which not only affects the appearance of the hair system, but also affects its life.
Indian hair is very soft and delicate. It is best for dark hair of any hair length and shorter hair of almost any color! Indian hair is versatile, very thin, light and elastic. It can be curled and styled easily. The natural color of Indian hair is black. If you choose light-colored Indian hair, it means that it has been dyed and colored. This chemical treatment will damage the hair, which may make it easy to break.
Chinese hair is the strongest hair compared to other hair types, it has a very good natural straightness. When you hold Chinese hair, you can feel its thickness. This is why it is the best hair straightening product. Moreover, Chinese hair can withstand deep processing because of its thickness, so most of the golden or light colors are made by Chinese hair. Although Chinese hair is strong, the chemical dyeing process makes the hair dry and brittle, so it is easy to break. These men's hairpieces quickly become fuzzy and need to be replaced frequently.
European hair has a fine denier, natural light brown and blonde, and requires less treatment. A major advantage of European hair is that this natural color range is provided, avoiding intense bleaching and reducing the need for hair damage. European hair is silky and shiny natural and considered to be the highest quality hair you can buy. The supply of European hair is not as abundant as India or China, so the product line is often limited and expensive.
Remy hair just refers to how the hair is handled and stored. In other words, the hair maintains a "root-to-tip" state, which means that the root end and the tip end can be distinguished. The hair strands follow the same direction, avoiding the most tangled and padded (if handled properly). In addition, Remy hair is subjected to less chemical processes, making hair healthier.
The virgin's hair has not undergone any chemical treatment at all, and was collected from a donor. The virgin's hair is Remy's hair, without changing the dye, perm, bleach or harsh washing, the cuticle is still intact and running in the same direction. Therefore, it is far superior to Remy hair. The biggest benefit of virgin hair is that it can last up to a year with proper care and maintenance.
In addition to foundation and hair, knotting method is also an important factor in determining the life of the hair replacement system.
Double knot:
This is ideal for very thick hair system density with plenty of hair and height. Larger knots usually make it difficult to flatten the hair, so the hairstyle should be fuller. This double knot will be more durable than others
Single knot:
Easiest to lay flat, best for freestyle hairstyles. However, it is easier to loosen than double knot.
Half knot:
This is the smallest and least noticeable knot. Half knots are smaller than single knots and can also be used for smooth back hairstyles.
Bleaching the knot:
After the knot is tied to the foundation, our workers apply a layer of bleach on the knot. It has removed most of the color, leaving a knot that is almost invisible. Its main advantage is that it can create an undetectable hairline that looks like it grows from your scalp. However, the chemicals used in the bleaching process will weaken the knots and easily lose hair.
The front hairline of French lace must use a single split knot to create a natural positive effect. But the remaining materials and areas use double knots to make the whole work last long enough. Also for all skin hair pieces, we make v-ring hair on the front so that the front hairline has no knots and single split knots anywhere else, making a strong and natural piece. There is also injected skin. It is not as strong as knotted skin. In fact, the hair is injected into the bottom of the skin without knots, so it is easier to loosen.
Finally, let us look at the relationship between the life of the hair replacement system and its natural appearance. When people use a hair replacement system, the first requirement is that it must look natural, not like a wig. They don't want others to know what they are wearing. In order to achieve this natural effect, the hair replacement system needs to use small knots, no knots, or even bleached knots. Because these knots are small and invisible, people will not notice. Well, summary, no knots, bleach knots are not strong knots, so the hair replacement system will not last longer. In contrast, large knots, non-bleached knots are stronger knots and longer lasting for the hair system. However, these larger knots are not invisible, and more importantly, they are not natural. From this perspective, life span and natural effects are two diametrically opposed things. This is not always true, a longer-lasting hair system with a longer lifespan is better. The key is which is more suitable for you, durable or natural.