Basic knowledge of men's custom toupee hair
Posted On March 2, 2021 09:49:42
by Toupeec
In the 21st century, more than 70% of the male population begin to suffer from early hair loss. Although the hair loss process is natural and occurs in everyone, sometimes it can become uncontrollable. In many cases, people are just not prepared to have their own age or sparse hair. If not, there are some men out there who don't like them or just want to try a new look.  
No matter what the reason, many people are looking at the hair replacement system worn on the hair, rather than medical invasive treatment or treatment of natural hair. If you are looking to wear a toupee hair for men to make up for hair loss or just want to try a new look. You can buy your own customized dark brown / gray men's hair toupee, but first, you need to know more before you invest.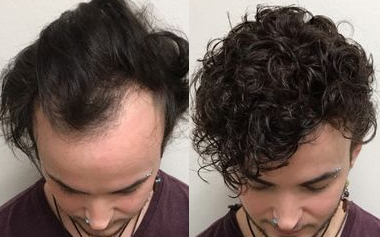 Learn about your toupee hair
Human hair wigs or toupees are part of history and have been worn by millions of people for hundreds of years. Toupee hair has a bad reputation, which can bring you the visual effect of sticky and fake hair toupee for men. But science has made a lot of progress in hair toupee and replacement systems. Modern men's toupees are almost undetectable. Many specifications allow you to choose the ideal men's toupee hair for yourself. If you want your men's toupee hair to be perfect for both appearance and comfort, read the rest of this article for a better understanding of hair toupees for men.
The first thing to wear a hair toupee for men is to make it look natural. The men's toupee has a variety of textures and colors that you can choose for the most natural look. Whether you are aiming to get a hair toupee to hide any hair loss or just to have a new look, you can get your preferred men's toupees dark brown/grey.   
Choose the right hair type
Start with the most obvious; the type of hair. The men's toupee hair is mainly composed of two types of hair. Natural human hair and synthetic hair. Both types of hair have their advantages and disadvantages. Once you know more about hair, you can make a choice. In addition, the choice of hair also depends on your ethics in terms of environment and moral beliefs. Both hair types have different degrees of comfort and other benefits, depending on your preference and choice.  
Human hair toupee wig for men
Human hair wigs are hair toupees made of real human hair. Hair is obtained from people who are willing to donate or sell it. Many advantages give natural hair the upper hand. The hair toupee for men looks more natural and easier to blend in and shape. Mens toupee need more professional hands because they need to be handled regularly. In addition, because they are made of natural hair, so as long as you take appropriate measures to care for them, you can dye, shape, treatment and so on. However, the price of human hair is higher, and it can be destroyed like natural hair.  
Synthetic hair wigs
Synthetic hair wigs, as it is clear in the name, are made from fibers synthesized in a scientific environment. These wigs can be made to look almost natural but still tend to show a bit if not worn right. Two huge benefits of these wigs are the price and the styling. Synthesized wigs come pre-styled, and while you cannot use any heat or chemicals on them, they come at such a cost that they are easy to buy. 
Visual characteristics of men's toupee hair
After determining the type of hair toupee for men, you need to focus on the visual effect of the toupee hair. The primary goal is to achieve a men's toupee integrated with natural hair quality. If you want to try a new look instead of covering up hair loss, you still need to determine the texture, color and other physical aspects of the hairstyle you want to achieve.
Texture
You need to identify a texture that blends with your hair and looks natural on your skin. Toupee hair with flat and curly hair, and then other variants, can help you get the look you need.  
Color
The color of the men's toupee is crucial for achieving a perfect look and determining the color that matches your skin tone and suits your age. After determining the color, you also need to consider highlights. For example, if a man is middle-aged, the perfect black hair toupee for men should be a mixture of brown shadow and gray. Men's toupees dark brown/grey still have many possibilities, and you will need to make the right choice among them. 
Length
Finally, the length of your hair toupee. Depending on how you wear your hair in your daily life, you need to specify a specific length. Considering the length of the men's toupee hair will also change the cost. But before deciding whether the length is too short, remember that you can always change the hair to make it shorter, but never longer.  
After determining the ideal men's toupee hair , you can visit our online store www.toupee.com, order your favorite toupee hair at the best price!